The Gracious Life
Living well and living elegantly is just another day
when you live in Embassy Row, Ampang
One of the oldest roads in Kuala Lumpur, Jalan Ampang's transformation from dusty thoroughfare to premium address reflects the storied history of the city. Fortunes have been made and dynasties have been born on this street, and as Kuala Lumpur has transformed from hard-working mining town into one of Southeast Asia's most exciting capital cities, the neighbourhood through which Jalan Ampang passes has become one of the most desired addresses in Kuala Lumpur.
Dubbed Embassy or Ambassadors' Row, the country's unofficial diplomatic precinct encompasses a stretch of Jalan Ampang from the Jalan Tun Razak intersection to the Middle Ring Road and includes the enclave of Taman U-Thant and Ampang Hilir.
The postcode of old money, high-flying expatriate families and foreign diplomatic staff, for those privileged to call it home, premier shopping, destination dining and entertainment are within easy reach. Add to that a surprisingly unpretentious global village vibe, world class health facilities, quality educational institutes and unbeatable connectivity with Greater Kuala Lumpur, and it's evident why the address carries significant cachet.
Set to be completed in stages by 2022, the construction of Pavilion Embassy is currently underway on 5.75 acres of prime freehold land on Jalan Ampang. An integrated commercial and residential property, Pavilion Embassy will consist of a combination of sleek corporate suites, service suites and luxury residences befitting its prestigious address.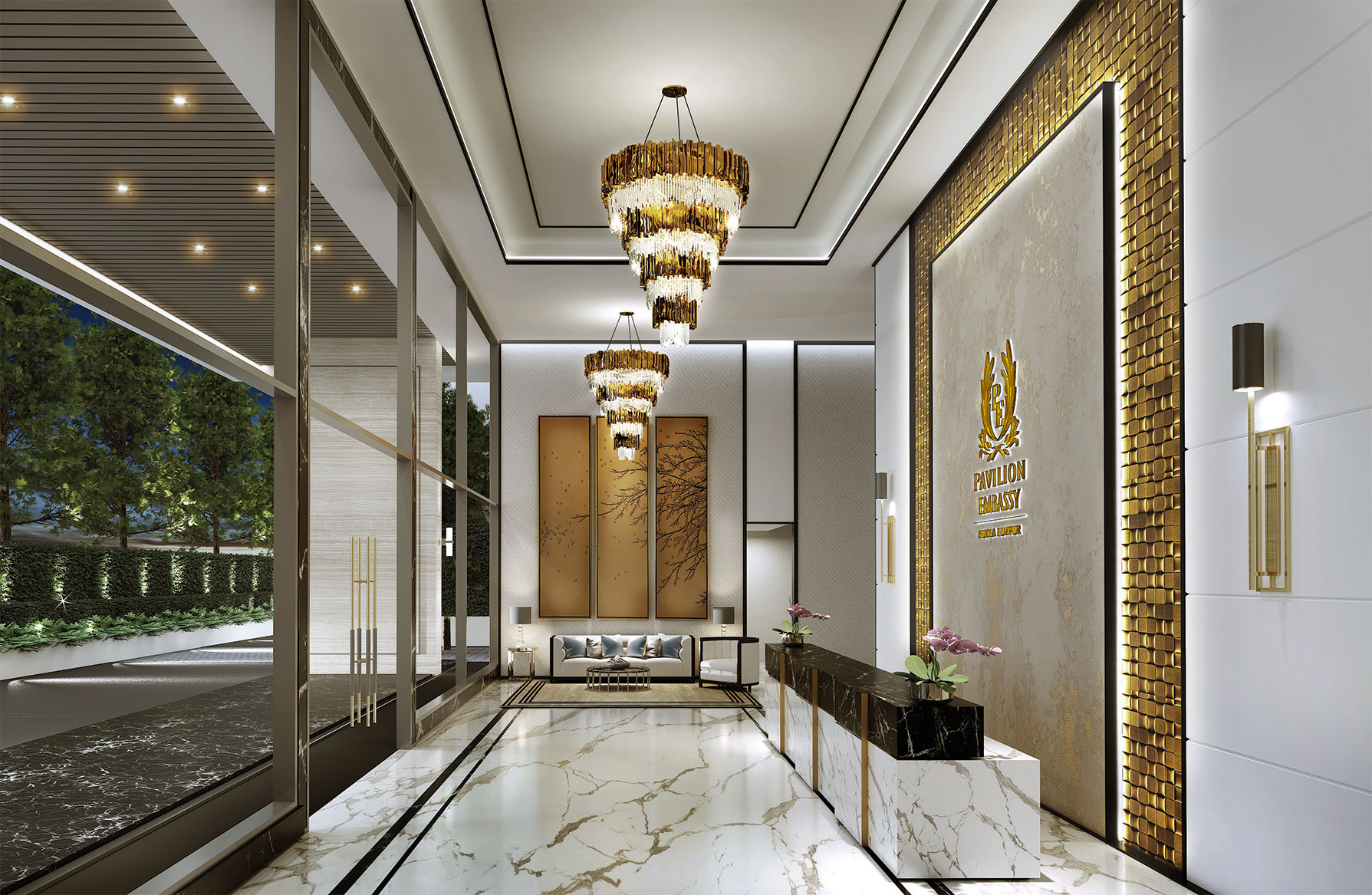 Pavilion Embassy's Mayfair and Oxford Residences  Named for London's affluent district and renowned high street, their 183 residential units will be set across two towers with captivating views of KL's cityscape. Residents will have exclusive access to several elegant private rooms for entertaining, including an exquisite tea-room designed for hushed tete-tetes, and a luxury concierge service at one's beck and call to take the mundanity out of necessary chores. The city's commercial business and retail district are just over a kilometre away, and thanks to a robust public transportation system and efforts to siphon traffic away from the city centre, the area has shrugged off its reputation for rush hour gridlock.
Schools are a major factor driving relocation to Embassy Row. Sayfol International School and Mutiara International Grammar School offer the British curriculum up to A-level grade, and Montessori pre-schools such as Tree Top House and The Children's House run playgroups for children as young as two months old. The country's highest regarded private educational institution, International School Kuala Lumpur (ISKL) recently moved here from two separate campuses. Offering international curricula up to International Baccalaureate Diploma Program level, the school leads the way for inclusivity in education with its Life-Centered Education Program.
Embassy Row's proximity to world-class healthcare like Prince Court Medical Centre, Gleneagles Hospital Kuala Lumpur and KPJ Ampang Puteri Specialist Hospital provide additional peace of mind. HSC Medical Centre, which has built a reputation as a diagnostic centre and orthopaedic specialist hospital is situated opposite Pavilion Embassy.
Easy does it From the city's most exclusive recreational clubs to international dining and the arts, Ampang has the keys to the kingdom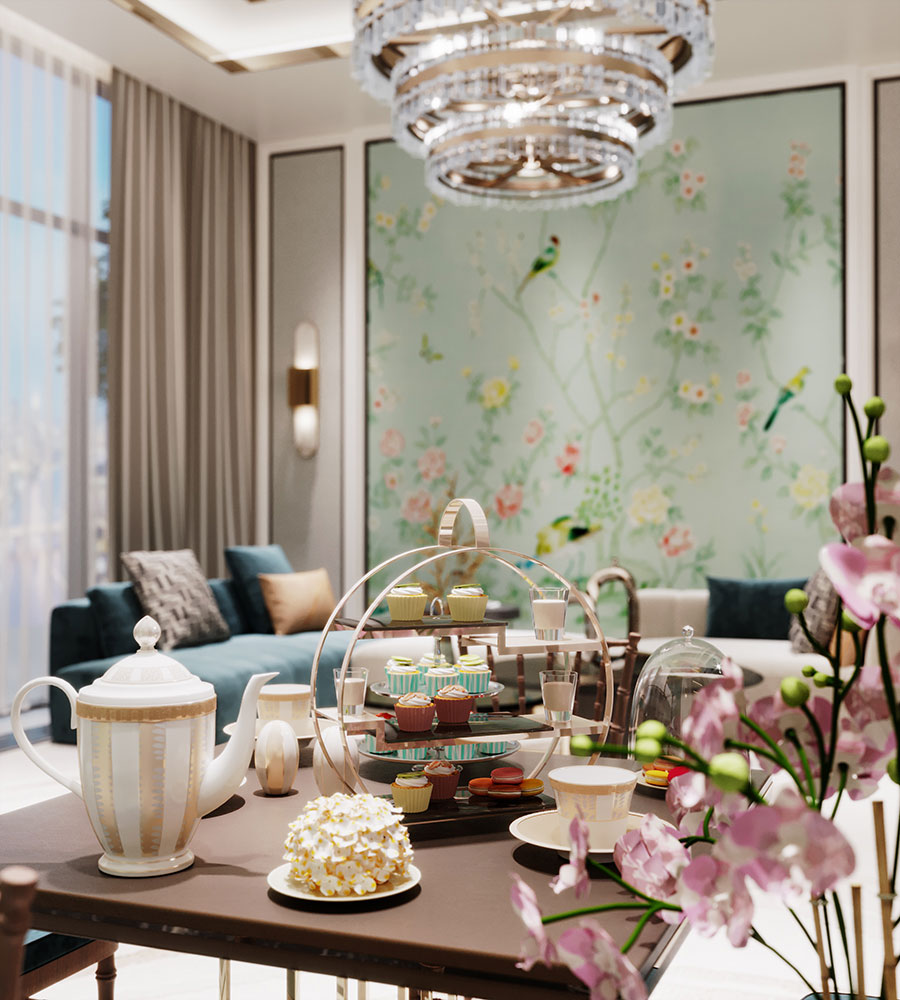 Locate Pavilion Embassy, plot out a radius of two kilometres on a map and you'll get the very best of KL: dining, shopping, art, culture and music. Little wonder that the area's diplomatic cluster has resisted a move to the new administrative capital in Putrajaya. Testament to its cosmopolitan credentials, both Korea Town and Little Arabia have their origins here. Local gourmands will be familiar with Dewakan at Naza Tower and RGB on Jalan Damai, one of the city's early vegan food pioneers.
The inclusion of Pavilion Embassy's arrival is sure to add more al fresco dining options to the list. For homesick expatriates and well-travelled Malaysians, Hock Choon and Ampang Grocers in Ampang Hills are relied upon as a source of imported goods, while local shopping centres such as The LINC, Pavilion Kl Mall and The Intermark Mall, the latter being a ten-minute stroll from Pavilion Embassy, serve the community's immediate needs. Fans of culture and live music won't go hungry either. Alexis Bistro at Great Eastern Mall provides a stage for jazz and show tunes, and for aficionados of classical and world music there's Dewan Filharmonik Petronas. On the other hand, if it's solitude you seek, the National Art Gallery on Jalan Tun Razak, Ilham Gallery at Ilham Tower on Jalan Binjai and the Gallery Taksu off Jalan Jelatek are exceptional curators of Malaysian and Southeast Asian fine and contemporary art. Being bound to Kuala Lumpur's urban centre is no detriment to leading an active outdoor lifestyle.
Step away from Jalan Ampang and you'll soon find yourself on a quiet tree-lined street. The Eastern side of KL is conveniently close to Malaysia's Main Range chain of mountains, providing an opportunity of endless adventure. Hidden waterfalls and hiking trails await exploration in Kemensah, and Gombak and Hulu Langat's sinuous country roads are an irresistible  lure to weekend cyclists. KL East Side Stories, a site dedicated to sharing the joys of Ampang living with its audience namecheck The Monkey Trail in Taman T.A.R, Taman Tasik Ampang Hilir and the Lookout Point in Ampang as recommended places of interest.
Of course, nothing says pedigree better than two of the country's most exclusive private members clubs. The historic Royal Selangor Polo Club and the Royal Selangor Golf Club are both located within KL's diplomatic enclave and are the social glue for many of the country's most prominent leaders and industry captains providing a discreet setting to gather and network.
Residents of Mayfair and Oxford Residences at Pavilion Embassy will have access to a common infinity pool, Mayfair Tower residents may enjoy both a delightful Tea Room and Games Room while Oxford Tower residents have the benefit of a swanky Cigar Lounge.
As published by Tatler Living, December 2021.