Living For The City
THE BEST AND THE BRIGHTEST OF URBAN LIFE IS FOUND IN BUKIT CEYLON.
From Emily in Paris to Tokyo!, the appeal of living in the thick of the action transcends from screen to reality. We love cities. Always have, and according to a report by the United Nations, we always will. Despite the inherent romanticism of going off the grid and leaving it all behind, urbanisation shows no sign of abating. Globally, over one million people migrate to cities every week and the UN predicts that over two-thirds of the world's population is expected to be urban by 2050. Lured by the promise of a better life, cities are centres of opportunity: for jobs, education and – call us romantic – for love.
Not just a collection of architectural wonders and better infrastructure, cities are cultural beacons, sociable places where colours and cultures collide and new trends emerge. There's better access to healthcare and education and seemingly endless entertainment and dining options. Life in the city is frenetic, demanding, confoundingly draining and energizing at the same time, and for those who love that lifestyle, it's rewarding.
The world's best cities radiate electricity. It's why we love New York, Paris, London, Tokyo and Kuala Lumpur. Consistently listed among the top 10 Asian cities in InterNations' Expat City Ranking, in 2020 Malaysia's beloved capital was voted 8th best city for expatriates out of a total of 66 and came out top of the finance and housing index. City life has practical appeal. It's why property lease and home ownership within urban neighbourhoods like Bukit Ceylon are in high demand. Located within the Golden Triangle, Bukit Ceylon has restaurants and bars at its doorstep, an urban park next door and is a leisurely 10-minute walk from the city's heritage core and shopping district.
Yet despite the conveniences, urbanites still dream of retiring to the country or moving to the suburbs, until recently. That dynamic is changing. To make cities more habitable, urban planners are redesigning them, and the changes are already attracting millennials and retirees to stay. Borrowing from the slower-paced, less-stressful suburbs, modern metropolises are being made pedestrian-friendly and community-focused: public squares and laneways are being transformed by art and community-led events to connect places and create hubs for diverse communities; transit systems are an open invitation to venture into neighbouring boroughs; and besides mitigating the effects of climate change, pocket parks and vertical and rooftop gardens are helping to diminish noise and air pollution, reduce stress and improve overall well-being.
Efforts to reimagine KL are similarly bearing fruit, and neighbourhoods like Bukit Ceylon are among those benefiting. Initiatives to regenerate KL's former historical centre and revitalise neglected back streets and forgotten passages by Kuala Lumpur City Council (DBKL) and Think City, a subsidiary of Khazanah Nasional Berhad, have created new places to explore, adding excitement to once written-off parts of the city and boosting the area's economic value. Miniature forests in unlikely places like Laman Tun Perak just off Jalan Tuanku Abdul Rahman and Laman Standard
Chartered on the corner of Jalan Pinang incite fascination; and River of Life, the government's sevenyear project to beautify the Klang River waterfront has made the city more walkable, a notion that seemed implausible years before. Alongside electric scooter rentals, cycling lanes and car-free Sundays, KL is a friendlier, more approachable place as a result.
Positioned at the tranquil end of Changkat Raja Chulan, Pavilion Ceylon Hill in Bukit Ceylon has also incorporated biophilic design into its architecture. It's recreational facilities for residents are spread out across two levels of lushly manicured landscapes with a garden pavilion that overlooks the city. Such collective efforts by civil society and private enterprises have a cumulative effect. For those who choose an urban existence, city life has never been more tempting.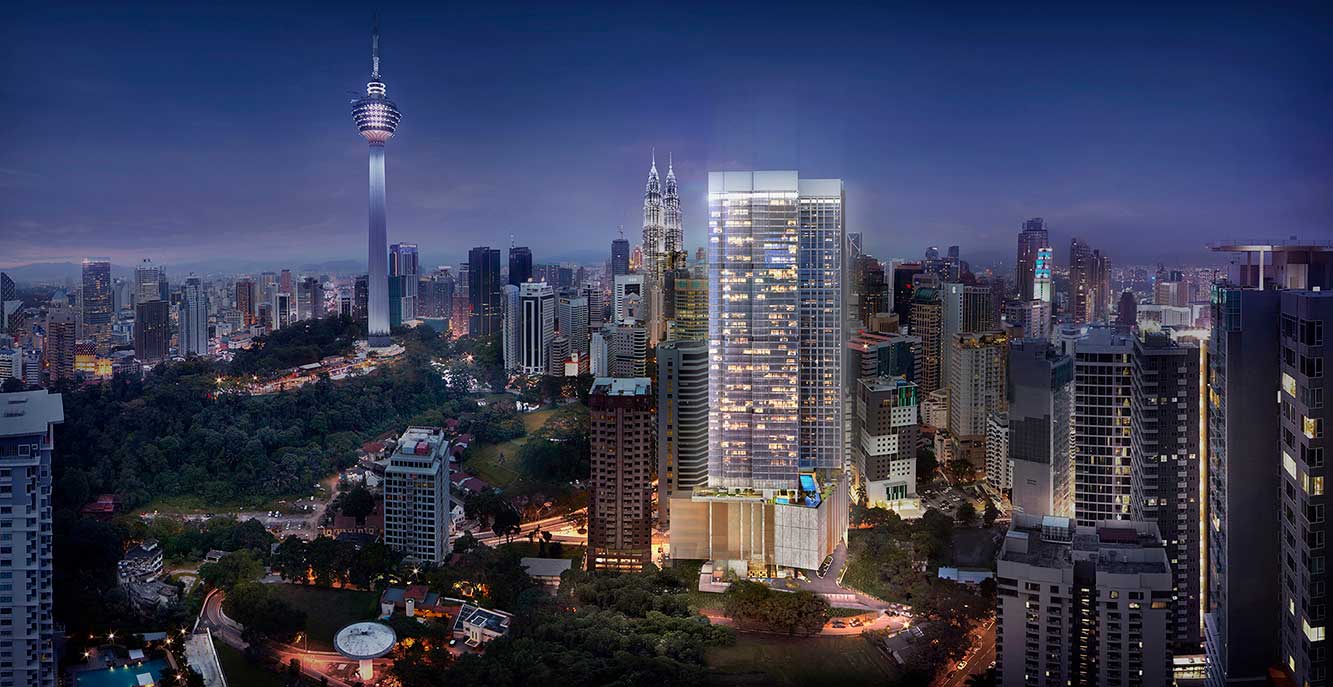 DISCOVER THE WORLD'S OLDEST RAIN FOREST IN THE HEART OF THE CITY.
Whatever the season or colour of the foliage, the greenery found on tree-lined boulevards and in city parks is transformative. Capable of softening the hard grey edges of a densely populated, trafficcongested concrete jungle, greenery is what makes cities like New York and London so liveable. For urban dwellers, KL Forest Eco Park is Kuala Lumpur's tropical equivalent, a wooded island in the midst of the capital's sturm and drang. Nature's yin to the city's yang. Located next to Bukit Ceylon, for nearby residents it's more than an exceptional view outside one's condominium window, it's a place to catch your breath and fill your lungs.
Gazetted as a forest reserve in 1906, KL Forest Eco Park predates Taman Negara and unlike the landscaped gardens of Taman Tasik Perdan  or the secondary regrowth of Taman Tugu, it consists of tropical lowland rainforest. A generation of Malaysians know it as Bukit Nanas Forest Reserve. Tigers once roamed here, and in the 70s and 80s cable cars whisked young lovers and daytrippers up its slopes for views of an emerging city. Much has changed; at street level this urban wilderness is obscured by lofty office blocks and luxury hotels – were it not for its KL Tower landmark it could be missed by the less observant – but its value to the community is hard to put a price on. To give you some idea, RM430,000 was the cost of conserving a single century old Jelutong tree during KL Tower's construction.
Despite being scythed down to 9.3 hectares from its original 17.5 hectares, KL Forest Eco Park throws serious shade on the city – and we mean the good kind. It helps trim carbon dioxide emissions, cool its surroundings, and lessen water runoff from rain that can contribute to flooding. Trading the cacophony of cars, buses, and bikes for the drone of insects and birdsong, urbanites in the know come here to wander trails named after local tree species and seek respite in the treetops at the park's 200-metre canopy walk. KL Forest Eco Park is a sanctuary for wildlife too. Besides the birdwatching, it's home to a troupe of silvered leaf monkeys that were relocated here. Like the area's residents, they are thriving – it must be that clean, crisp forest air.
FROM STREET FOOD TO SUSHI, DESIGNER BAGS TO DANCING SHOES, EXPERIENCE THE BEATING HEART OF THE CITY RIGHT IN FRONT OF YOUR DOORSTEP.
Kuala Lumpur is a city that never sleeps. It works hard, plays hard and in the thick of it all is Bukit Ceylon. Known for its thriving nightlife and F & B scene, Bukit Ceylon is smack at the hectic epicentre of Kuala Lumpur's Golden Triangle and commercial business district. Landbank is unsurprisingly scarce, and remnants of Bukit Ceylon's colonial past remain like St Andrew's Presbyterial Church, a gothic style church that's over a century old. Most of the hillside bungalows and lavish mansions have been adapted for commercial use but a smattering of landed homes endures, including the satellite palace of Pahang Royal family.
With a 2022 completion date, the luxurious Pavilion Ceylon Hill will offer its residents a rare front row seat to one of the most exciting skylines in the world. Just off Changkat Raja Chulan next to the KL Forest Eco Park, Pavilion Ceylon Hill's 629 premium service residences blurs the lines between stylish abode and luxury hotel. Featuring two separate entrances and three dedicated lobbies for a grand arrival, residents can look forward to resort-style facilities and a concierge service tailored to life on the go.
What the rest of the country calls destination dining, Bukit Ceylon residents call their local. Options are diverse and could take you from dusk 'til dawn as they stretch down Changkat Bukit Bintang to Jalan Alor's street food mecca and across from Pavilion Ceylon Hill's Jalan Raja Chulan entrance to Old Malaya, where you can dine al fresco under the flashing lights of KL Tower. From reservations only establishments like Enfin By James Won at Menara Hap Seng, to Bijan for chic Malay cuisine and Japanese omakase at Sushi Ori at Menara Kek Seng, to more casual alternatives like Bottega Mediterranea and exotic cuisine from across the Arabian continent in Little Arabia, every gastronomical taste is catered to.
Things get lit when the sun goes down. Establishments like Havana Bar for cigars and rum cocktails, Black Tie for live jazz music and Pisco Bar for dance music and international DJs, are reliable mainstays. If your ambitions are loftier, there are the rooftop bars of Vertigo at the Banyan Tree Hotel, as well as nearby Luna Bar and Helipad to rival Pavilion Ceylon Hill's own swanky 12th floor chillout lounge.
Similarly, you can shop 'til you drop here. The area has the highest concentration of shopping malls in the country and Pavilion KL on Jalan Bukit Bintang is one of Malaysia's premier upscale shopping destinations. It's also reassuring in a post-Covid era that all this is easily accessible. Pavilion Ceylon Hill residents will have the convenience of three storeys of commercial retail within the property.
With multiple configurations from one to three bedrooms, Pavilion Ceylon Hill is ideal for single professionals, young couples, nimble families, and smart investors. Testament to demand and its desirability, limited units are available and come partially furnished with built-in kitchen cabinets, bedroom wardrobes and appliances so you can move in without haste. As they say around here, "YOLO!"