A City on the Merge
DISCOVER WHY INTEGRATED DEVELOPMENTS ARE BECOMING POPULAR
BECAUSE OF THE ABSOLUTE CONVENIENCE THEY OFFER
Bar subsisting in a space station on Mars, fewer living arrangements are more self-contained than an integrated development. Combining residential and commercial properties with a transportation node, work, life and play harmoniously coexist in an integrated development, and it's an arrangement that's gaining increasing acceptance with luxury property buyers.
Where landbank is scarce, integrated developments efficiently pack an impressive number of amenities into a relatively modest space to create desirable vertical villages in attractive urban centres.
Having the convenience of dining choices, shopping for groceries, a plethora of beauty and wellness services and even high fashion retail a mere elevator ride away is beguiling to say the least. It's the snob appeal of having your finger on the pulse of the latest – and not having to venture too far for it.
Saving precious time and unnecessary spending on travel, this unparalleled proximity to conveniences is particularly reassuring in a post-Covid existence.
Differentiated access to facilities like the gym, swimming pool and children's playground additionally provide a measure of security commonly reserved for gated communities.
Used interchangeably with the term mixed development, an integrated development has one more trick up its proverbial sleeve: direct access to public transportation. A hallmark of modern urban living, transit connectivity can avail a whole city of possibilities.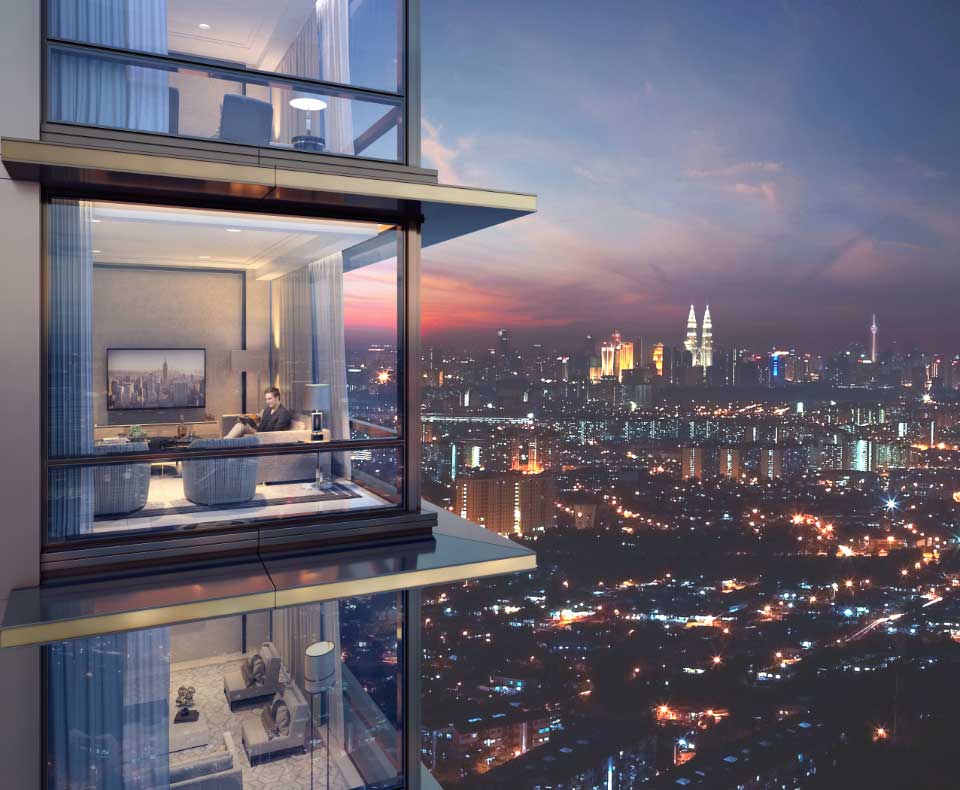 Such optimal use of lucrative real estate to create value is a boon to astute investors, owner occupiers and residents. Mixed use developments provide built-in diversification that lower risk profile investors prefer. Surrounding competition, changing tastes, emerging trends, and effective management will undoubtedly factor into the longevity of a property's allure. Nevertheless, integrated developments have demonstrated greater capital appreciation and a propensity to generate passive income especially when coupled with the presence of the development's Corporate Towers which will offer tenant profiles that are a cut above.
If all this functionality projects a colourless image of ruthless utilitarian efficiency, fear not; the practical benefits of integrated urban living can come as beautifully packaged as any private landed home.
Pavilion Damansara Heights is an integrated development that combines ultra-convenience with luxury living. Taking up residence where the severe brutalist form of Pusat Bandar Damansara once dominated on the edge of the upscale Kuala Lumpur suburb of Damansara Heights, Pavilion Damansara Heights is an ambitious configuration of five premium residence blocks, nine corporate office towers, office-hotel suites and a glittering lifestyle mall.
No expense has been spared on fashioning its condominium homesteads. Take its Imperial Residences. Nestled beside the lavish bijou apartments of the Pavilion Damansara Height's equally grand Royal Suites, Imperial Residences is an opulent lowdensity configuration of 154 units across 50 storeys. Each unit is impeccably furnished with sumptuous marble flooring, designer fittings and state of the art appliances, and with a dedicated lift lobby and access to concierge services exclusivity is assured.
Throw in its prime position between the affluent neighbourhoods of Bangsar and Mont Kiara, future MRT connectivity with its namesake MRT Station and a new link to the DUKE highway, and Pavilion Damansara Heights looks set to repeat the stellar track record of its mould-breaking predecessor, Pavilion KL.
For investors and owner-occupiers that have balked at the integrated development model, the possibilities that this and similar luxury development have unlocked are impossible to ignore.
OUR ADDICTION TO THE CONCIERGE ECONOMY AND WHY CONCIERGE SERVICES ADD UNTOLD VALUE TO OUR LIVES
Need a private jet to whisk you away? Or perhaps it's to help pick an engagement ring? Luxury concierge services are making it happen. Emerging from the hospitality scene, concierge companies are the hard toiling elves and fairy godmothers taking on a multitude of tasks on behalf of their time-strapped clientele.
Banking on an extensive network of vetted contacts, the finest concierge companies can unlock privileged access to exclusive locations and private events, make skilled recommendations and curate fantastical experiences. It's big business and in 2019, the concierge economy was predicted to be worth USD773.3 million by 2025.
At the pinnacle of the segment are companies like Quintessentially and Knightsbridge Circle, whose bespoke services are limited only by their elite clientele's imagination and budget. Services are usually membership driven, but pay as you go options are becoming de riguer as the demands of our increasingly fast-paced lifestyles leave us all with little time left for what matters.
Anticipating the needs of its clientele, Pavilion properties, including Pavilion Damansara Heights, offer a mix of complementary and on-demand concierge capabilities that will add value to busy lives.
Besides providing personal concierge assistance that take on those menial tasks you'd rather outsource like picking up parcels, sending dry cleaning and securing dining and travel reservations, Pavilion's in-house concierge will have a special emphasis on property related services. Saving you from the mundanity of coordinating pest control services or applying for internet and cable TV, it will also extend conveniences like key drop-off and arranging property viewings, because between work, social engagements, family and working on yourself, who has time for that?
Mens Sana in Corpore Sano
FROM ACTIVE PHYSICAL PURSUITS TO GOOD MENTAL HEALTH,
LIVING A HEALTHY LIFESTYLE IS NOW POSSIBLE EVEN IN A FAST-PACED ENVIRONMENT
The notion of pulling the breaks and devoting time to yourself can seem counterintuitive when you're juggling life's demands and personal responsibilities but working on yourself is the most important work you will do.
Staying healthy, both physically and mentally, prolongs lifespan and contributes to your quality of life, ensuring you are your best self, and that can translate into immediate productivity gains and better relationships with the people around you. While genetics has a role to play in health outcomes, one's social environment does too, and access to physical activity, good nutrition, and adequate healthcare factor into that.
Fortunately, fitting exercise into a hectic schedule is increasingly possible thanks to efficient exercise regimes like high-intensity interval training (HIIT), Tabata and skipping, which can be whizzed through with much effort in 10 to 20 minutes. Combining physical activity with being outdoors in nature even for short spells has also been shown to boost the benefits of exercise.
That's great news for people living in enclaves such as Damansara Heights, including the upcoming Pavilion Damansara Heights. In addition to world class sports facilities like TPC Kuala Lumpur's two 18-hole golf courses and Bukit Kiara Equestrian Club and Country Resort, the neighbourhood is connected to several public parks and recreational facilities that cost nothing.
The forest parks of Taman Tugu near Perdana Botanical Gardens and Bukit Kiara Forest Reserve for example are a boon to local ramblers, trail runners or, in the specific case of Bukit Kiara Forest Reserve, off-road cyclists; one need only pick a speed and tribe.
That social element of exercise – meeting likeminded people with shared interests – also helps to keep one motivated and has its own merits: it boosts mental health. Does that mean the post-yoga and Pilates at The Flow Studio bonding sesh over coffee and kombucha is as important as one's marjariasana and bitilasana? Possibly.
With convenient access to fresh produce and whole foods, and excellent universal and private health care, perhaps the wealth that Damansara Heights and neighbourhoods like it are associated with should no longer be measured in ringgit and sen but in their residents' capacity to stay happy and healthy.
FROM FINE DINING RESTAURANTS TO SPECIALITY GROCERS,
FROM ARTISANAL BAKERIES TO NICHE BARS, DAMASARA HEIGHTS SERVES UP A SLICE OF THE SWEET LIFE
Voted one of Lonely Planet's Top 10 Coolest neighbourhoods, it's hard to pinpoint when the transformation of Damansara Heights from upscale suburban enclave to greenery-kissed hangout for Kuala Lumpur's social set began.
Most of the action here is culinary in nature, and until the arrival of newcomers like Babe's Japanese tapas, Sitka's inventive Asian fusion and modernist Indian Gin Rik Sha, it was left to reliable neighbourhood haunts like Shangri-La's cluster of street food stalls, Decanter, and pub and wine bars like Sid's and Vintry to feed residents and attract foodies. Centering on the recently reinvigorated Jalan Batai and Plaza Damansara, the neighbourhood's flavour changes from weekday to weekend depending on the time of day: pavements buzz with the chatter of the office influx at lunchtime and tinkle with the sound of wine glasses and laughter pouring from its al fresco restaurants and bars come sundown.
It's also remarkably egalitarian in outlook with budget-friendly joints like Nasi Lemak Tanglin dishing out Malay lauk just doors down from where Kind Kones is scooping out vegan ice cream. Commonly associated with Malaysia's upper echelons and the seat of royal power (several notable politicians reside here, and the royal palace is located here), Damansara Heights hide a surprising concentration of cocktail bars. Standouts include Frangipaani at Republik, a beautifully realised intimate restaurant/bar, and JungleBird, a tropical bambooclad rum bar hidden in a first-floor shop lot.
The entry of specialist grocers like Ben's Independent Grocers and Qra which cater to increasingly sophisticated tastes has further energized this well-heeled locale. The eventual completion of Pavilion Damansara Height's lifestyle mall in Pusat Bandar Damansara is expected to add more flavour to the mix.
FAMILY TIES AND HAPPY MEMORIES KEEP DEBORAH HENRY AND KARINA SHAH IN DAMANSARA HEIGHTS
For lawyer Karina Shah, Damansara Heights is rife with memory. "Most of my teenage years were spent here," she ventures before recalling some the neighbourhood's former gems, like local grocer Hock Lee, Kiddies Store – "the best bookstore ever then" – and US fast-food franchise Wendy's. "The first Wendy's restaurant opened at what is now known as Plaza Batai," Karina recounts. With so much affection for Damansara Heights, it seemed inevitable that after 38 years Karina would return.
Naturally much has changed, notably the reinvigoration of Plaza Batai and completion of the Manulife Semantan and Pavilion Damansara Heights Pusat Bandar Damansara MRT stations. The connectivity that this new mode of public transportation provides residents is one more reason Katina adores where she lives. "It provides easy access to most things I do, like work, shops, hobbies and where I do my hair."
Conversely the area's self-sufficiency has also been critical to its liveability. "It's a rather self-contained area," Karina explains. "You have banks, eateries and schools." Her daughter, Alicia Amin, who was the breakout star of reality TV show Asia's Next Top Model attended Cempaka International School (previously Sri Cempaka School) located within the neighbourhood.
Karina loves that most things are within easy walking distance. "Not having to park helps", she quips. The treeshaded pedestrian-friendly streets are ideal for walking her dogs, and there are hiking trials nearby for when Karina is up for a more rigorous outdoor workout.
DEBORAH HENRY
For a mature neighbourhood, Damansara Heights has a wily ability to surprise. Co-founder of Fugees School, a school for refugee children and a dedicated children's rights advocate, Deborah Priya Henry grew up here and is a long-term resident. "It's really the only place I called home," she divulges. "I went for piano and ballet classes in the neighbourhood, and now as an adult all my errands, grooming services and hang outs are within a few kilometres radius."
Her family has lived in this upscale suburb for over three generations, and like many other long-term residents, their lives are interwoven into the fabric of the community – family friends still spot Henry's mother on her daily walk, something she's done since Henry was a child.
Despite its history, Damansara Heights has managed to stay remarkably hip. "I love that beyond the franchise outlets and big businesses there is still room for indie pop-ups and youth-driven spaces," Henry Malay eatery Siti Li, and Kind Kones vegan ice cream store, are among her favourite dining locations.
The neighbourhood has even seen a proliferation of roadside stalls during recent COVID-19 lockdowns. It's that propensity to evolve and adapt to the needs of its community that has made Damansara Heights as vital as it is vibrant. "It's such a central point. It feels suburban and surrounded by green, but I'm also connected to KL and parts of greater KL," Henry says.
As long as Damansara Height's quietly effervescent character and lush leafy charms are protected, Deborah Henry will remain an ardent fan and resident.